All we need is Maine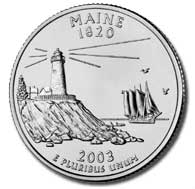 For the past year or so, my daughter and I have been collecting the quarters of the 50 states. We have 49.

We could have forked out $129 for the complete set (plus territories). They would have arrived through the mail in an engraved album, and we could have looked through it and admired all those beautiful coins from every state and territory.

That would have been a very good learning experience about the history of this amazing country of ours and all its states and territories. A good learning experience for those who take the easy route and have no backbone at all.

We'd have none of that. We did it natural. Collected them as they came to us through fate. And let me tell you that it takes a long time if you do it that way, a lot longer than you think.

First, we looked through our bucket of change. We had about 27 states. There was Arkansas with its diamond. Idaho with that incredible falcon looking out into the distance. Louisiana, where she had cousins, with the pelican and the trumpet. Every one of them was cool, and we talked about them.

We paid attention to our change. The states started to come in. Colorado. South Dakota. I would get excited at the coffee place when I had to pay $3.08. That's three quarters coming back!

Sometimes there would be one we needed. Sweet! It might just be the eagle, a disappointment. It might be the Bicentennial quarter, which was a consolation.

After the new year, we had 45. Then Oregon came. Florida. Just three more!

Nothing happened for a while. And then this week we got North Dakota. Two more!

Yesterday, we were in the drive-through. We owed $9.12, a great number. I looked at the change: Mississippi! The Magnolia State. It was our 49th.

There is only one state left. Maine. Its quarter was first circulated in 2003. It has a white pine tree, a lighthouse, a sailboat, and some sea birds. Who knows when I'll see it. It could be tomorrow or next year. That is the road less traveled.
Trackbacks